Uber co-founder Travis Kalanick now a billionaire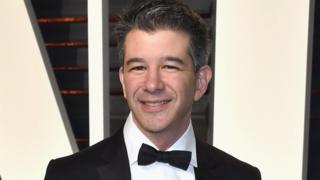 Uber co-founder Travis Kalanick will become a billionaire, after investors agreed to take a large stake in the ride-hailing firm. A consortium led by Japan's Softbank is buying a chunk of the company from existing shareholders as well as new Uber shares in a $9.3bn (£6.7bn) deal.
Mr Kalanick, who stepped down as chief executive in June, is selling $1.4bn worth of stocks, it is widely reported. While he had long been worth billions on paper, this deal cements his wealth.
Mr Kalanick was driven out of the top job by a series of scandals, but his ties with Uber remain strong. He remains a director at the company and is offloading less than a third of his holding - meaning he still has a stake that's currently worth about another $3bn.
Travis Kalanick is a man who presided over a rampant culture of sexism, the covering up of a major hack, spying on journalists and, allegedly, the theft of trade secrets from Google. To name but a few issues.
And now he'll officially be a billionaire.
On the other hand, the finalising of this massive deal will see Mr Kalanick's powers reduced. He's selling 29% of his shares, and Softbank, the Tokyo-based group which seems to be taking a stake in every bright idea in Silicon Valley, will gain two seats on Uber's board.
The cash injection will offer both a boost and a cushion as Uber looks to continue its loss-heavy strategy to grow in just about every city and major town in the world.