Pope says serpent temptation in Bible 'first fake news - Religion - Heroslodge
Heroslodge Forum / Religion / Pope says serpent temptation in Bible 'first fake news (1 Post | 103 Views)
I want to join the illuminati Qatar call/whatsapp +2349033385512 / 我想加入光明派 / Szeretnék csatlakozni az ILLUMINATI /
Pope says serpent temptation in Bible 'first fake news by Noblex: 2:59 am On Jan 25
Pope says serpent temptation in Bible 'first fake news'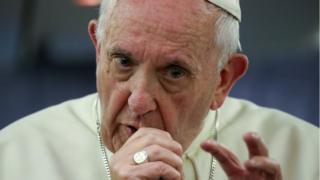 Pope Francis has denounced the "snake tactics" of those who spread fake news, saying the first case of misinformation is in the Bible when Eve is tempted by the serpent to eat the forbidden fruit.
The document The Truth Will Set You Free - Fake News and Journalism for Peace was issued ahead of the Catholic Church's World Communications Day on 13 May, and it was the first time the Pope has written on the topic.
It comes amid a debate on ways to contain the spread of fake news on social media platforms and how it may have influenced recent elections, including in the US in 2016.
Comparing it to the serpent's message of temptation in the Bible, he added: "We need to unmask what could be called the 'snake tactics' used by those who disguise themselves in order to strike at any time and place."
Additionally, he said the role of journalists - whom he called "the protectors of news" - was "not just a job, it is a mission".
(1) (Reply)
Testimony Of A Man Freed Of Kidney Stone - Bojcp Church / Ich möchte mich dem ILLUMINATI anschließen Österreich, Liechtenstein, Deutschland, Schweiz, Belgien, Luxemburg, Dänemark, Ungarn, Italien, Polen CALL / WHATSAPP +2349033385512 / Quiero unirme a los illuminati Costa Rica, España, Argentina, Puerto Rico, Cuba, Bolivia, Uruguay, Chile, México, Venezuela, call / whatsapp +2349033385512 /
Viewing this topic: 1 guest viewing this topic
(
Go Up
)