President Trump hits back at Jay-Z over 'superbug' comments - Celebrities - Heroslodge
Heroslodge Forum / Celebrities / President Trump hits back at Jay-Z over 'superbug' comments (1 Post | 108 Views)
Taylor Swift gives evidence in court in groping case / I want to join the Illuminati brotherhood / Eminem Takes On President Trump Again, 'Prepare to Get Impeached /
President Trump hits back at Jay-Z over 'superbug' comments by Noblex: 2:13 am On Jan 29
President Trump hits back at Jay-Z over 'superbug' comments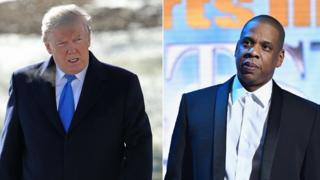 President Donald Trump has hit back at Jay-Z after the rapper called him a "superbug" and attacked his treatment of minorities. In a tweet, Mr Trump said "black unemployment has just been reported to be at the LOWEST RATE EVER RECORDED!". African-American unemployment stands at 6.8%, a record low. But critics say economic growth began under President Obama and unemployment remains far higher among the black population than the white.
Appearing on CNN's The Van Jones Show, Jay-Z said focusing on unemployment rates was "missing the point". "It's not about money at the end of the day…money doesn't equate to happiness. It doesn't. That's missing the whole point. You treat people like human beings...that's the main point." He then said Mr Trump's election was due to a failure to properly address certain problems.
"You have sprayed perfume on the trash can," he said. "What you do when you do that is the bugs come. You spray something and you create a superbug because you don't take care of the problem. You don't take the trash out, you keep spraying whatever over it to make it acceptable. As those things grow, you create a superbug. And then now we have Donald Trump, the superbug."
(1) (Reply)
Olamide's 'Wo' Video Violates Tobacco Act: Ministry of Health / Photo: Kim K's First Outing with Baby Chicago West / Nicki Minaj Allegedly Gives A Shoutout To 'Meek Millie' On New Fergie Track & Fans Are Losing It /
Viewing this topic: 1 guest viewing this topic
(
Go Up
)