Instagram Announces its Long-form Video Feature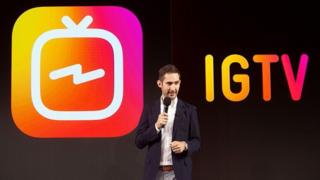 Instagram has released a long-form video feature which allows users to post hour-long clips.
IGTV lets users create content exceeding the current maximum 60-second clip limit for the first time.
It's not clear if the longer videos would include adverts or if users would be paid for their content as they are on platforms like YouTube.
Speaking exclusively to Newsbeat, Instagram founder Kevin Systrom said it's in "no rush to figure that out".
IGTV will show videos in portrait mode, which Instagram says is the "natural way" people use their phones.
Kevin said: "Video deserves a better home on mobile".
Tech expert Alex Brinnand, from TenEighty magazine, says IGTV could make Instagram a more dominant player in the social media industry.
He said: "We're still yet to see exactly what power Instagram does have. I'm sure there are lots of discussions happening at other platforms about how much of a threat this could be and those are valid".
The longest video you can currently post is 60 seconds long - that's in "feed" mode - the main bit of Instagram you see when you open the app.
Instagram Stories - which normally expire after 24 hours - have a 15-second video limit per clip.
What's new about IGTV?
The new platform will be a standalone app as well as existing on users' homepages.
Kevin told Newsbeat Instagram wants to change how people make and watch video - taking it away from traditional media like desktop computers and TVs.
"All the data we have shows that people are spending less and less time in front of TVs, but spending more and more time on their phones," he said.
He said he feels a "responsibility" to make these changes to Instagram.
How will it work?
Until now, you've only been able to post to Instagram on a mobile device.
That's another big change with IGTV - where you'll be able to upload on desktop and clips will get a unique link.
Each user will have a channel, similar to YouTube, where the videos will be stored.
If you've got an Instagram account, you'll get a channel once you update the app.