East African scientists turn to gene sequencing against 'Ebola of plants' - Health - Heroslodge
Heroslodge Forum / Health / East African scientists turn to gene sequencing against 'Ebola of plants' (1 Post | 233 Views)
GENOTYPE ISSUES. / 5 Mind Blowing Benefits of Eating Water Melon / Don't keep cell phones next to your body, California Health Department warns /
East African scientists turn to gene sequencing against 'Ebola of plants' by Noblex: 10:55 am On Jul 12, 2017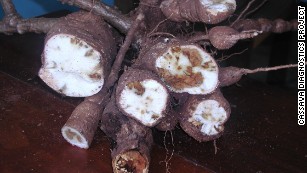 📰 *TP1*: *East African scientists turn to gene sequencing against 'Ebola of plants'*
The root vegetable cassava has no defence against a tiny insect called the whitefly, that is decimating crops across East Africa, with dire economic and humanitarian consequences.
The whitefly carries two viruses that together destroy over $1 billion worth of cassava in Sub-Saharan Africa each year. Cassava Mosaic Disease (CMD) is the more established threat and does most of the damage. But scientists are even more alarmed by an outbreak of Cassava Brown Streak Disease (CBSD) - dubbed the "Ebola of plants."
The disease is highly infectious, difficult to detect, and it mutates rapidly into new strains. Farmers often discover the tell-tale brown streaks only after their entire crop has been destroyed. The outbreak could have a catastrophic impact if it continues to spread. But local specialists are working with gene sequencing to defeat it.
(1) (Reply)
5 Foods To Start Eating The Moment You Notice Your Vision is Getting Worse / Warning Signs of a Stroke / See What Will Happen To Your Eye If You Look Directly at the Sun During Solar Eclipse /
Viewing this topic: 1 guest viewing this topic
(
Go Up
)