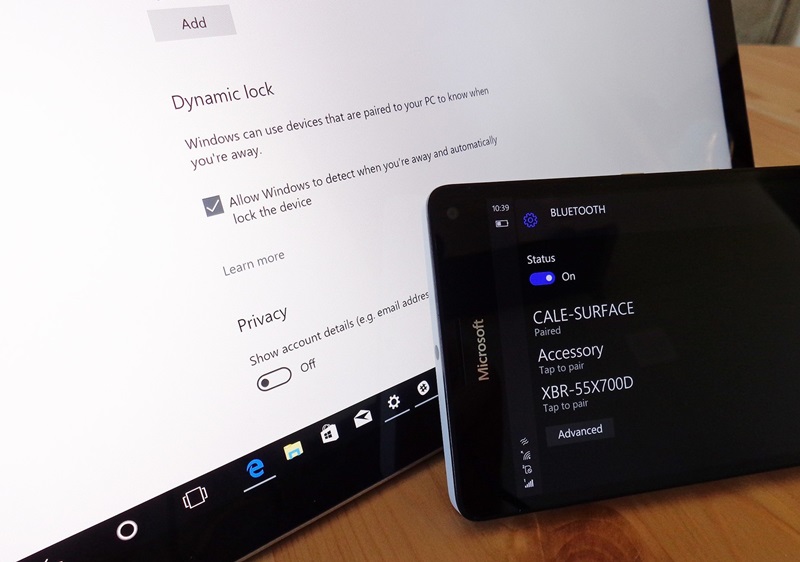 Before i start What is Dynamic Lock? Dynamic lock is a new security medium used to pushed on and off lock and security on windows using bluetooth.
Windows have been granted with a great security feature named Dynamic lock that works to lock the Windows every time when the user goes away. This feature is pushed on or off through the Bluetooth linking. Going towards the article, we are here to describe you about the method of setting and enabling of Dynamic locking on Windows Pc. If you wish to turn on this feature on your computer and hence prevent any sudden access by others to your information them please go and read the whole article below!
HOW TO ENABLE DYNAMIC LOCK
#1 First of all you need to choose any Bluetooth device that you can use for the Dynamic Lock feature. Although the feature supports every Bluetooth device you have to consider the device that is always there with you. The smartphone will be our choice as it could be easily taken with all the time.
#2 Pair the selected Bluetooth device to the Windows. For performing this action just go to the Settings -> Devices -> Bluetooth & other devices. Through the just as your device by clicking on the Add Bluetooth or other devices option. Windows will then search for your device, select the device through the results and pairing action will be triggered.
#3 After pairing your Bluetooth device you need to enable the Dynamic Lock feature on the Windows. Note that this feature is only availed in the Windows 10 creator update. If you have this version installed then only you can use this feature. We have used the Windows Insider Preview program to grasp the latest version test node of the Windows. In this version this feature was available but we cannot say of any other version still have the dynamic lock feature.
#4 Now to enable the Dynamic Lock, go to the Settings> Accounts> Sign in Options on your Windows through the Start menu. Scroll down to bottom inside the Sign-In panel and there check the box aside to the "Allow Windows to detect when you're away and automatically lock the device" option. Now the Windows will detect the paired Bluetooth device everytime. If it is away from the range for more than 30 seconds, Windows will automatically get locked!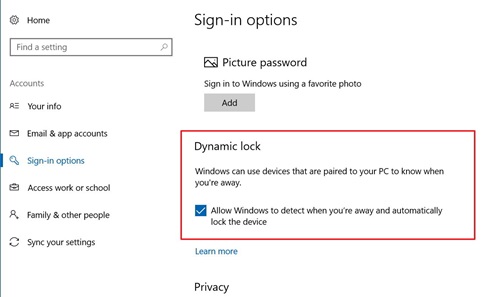 #5 Again when the same paired Bluetooth device comes to the live range of the Computers Bluetooth, the Windows get unlocked!
So you have got everything about setting and enabling of Dynamic locking on your Windows computer. Just use this great security feature to enforce the tight security to your Windows access.